This site is regularly updated with information related the the weekly Sustainability Cruises usually on the Hoofer Sailing Club's 'cow boat', Soma. The purpose of the cruises is to get career people and students in the environmental sciences together. We rig and sail for a while, then take a break while everybody shares what environmental sustainability interests they're pursuing as well as their take on a current hot topic.
A Facebook page makes it easy for participants to find each other, to propose and schedule outings, signup for one, and share pictures and stories after.
Take a cruise around Lake Mendota with the sustainability sailors! In this story, see how UW-Madison students and energy pros set sail to talk about the future of energy - on a boat powered by the wind!

MG&E staff joined us for two outings and created a video of the experience for their Green View web site.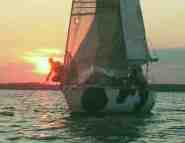 Cruises are scheduled usually on notice of less than a week. They are announced on the Sustainability Sailors list and on Facebook.
Space is limited. You will need to reserve a space on line...
Cruises have been scheduled weekly on Thursdays or Fridays in the past, and most frequently on Saturdays this year. We go out other times that people propose. For example, the popular 'cow boat', Soma, is tied up for lessons and racing only a few evenings a week and Sunday afternoons this fall. Propose an outing or a time to the sustainability_sailors [Subscribe] list or ask me.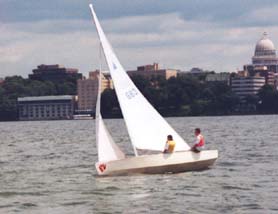 A Facebook page makes it easy for participants to find each other, to propose and schedule outings, signup for one, and share pictures and stories after.
We meet by the flagpole in front of the Union Boathouse at the north end of Park Street on Lake Mendota. You can park free after 4:30 weekdays and anytime on the weekend in Lot 34, which is on the lake below Observatory Hill, and walk back on the Lakeshore Path.
Check the current lake conditions with the Soil Sciences web cam that overlooks University Bay from atop King Hall or the current Sailing Club boathouse flags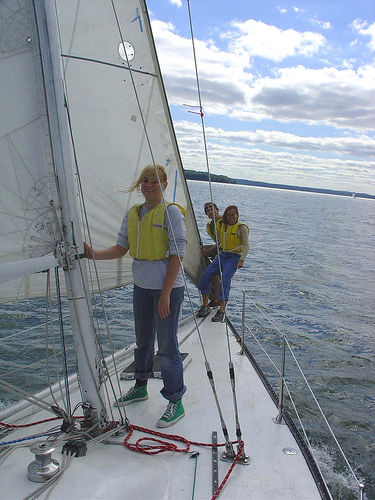 What to bring/wear:
Non-skid, non-marking shoes. white-soled tennis shoes are best. Leather soles are very slippery.
Wind/rain/sun jacket depending on weather.
Sun block if you have sensitive skin.
Water in a plasic bottle.
Snack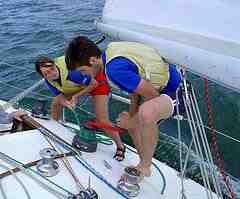 Since this will be the second time for some people, we're counting on you to help the first-timers get oriented. For example, we hope that by the end of each outing everybody can tie some of the 'seven deadly knots' and understand the fundamental aspects of sail shape.
The seven deadly knots
1.
bowline
: This shows a standard, right-handed bowline. We'll show you the more useful "slipped" bowline.
2.
Figure-eight (stopper)
3.
Clove-on-a-cleat
4.
Clove-on-a-post
5.
Rolling-hitch
a.k.a. taughtline
6. Elephant ears and cow hitch
7.
Sheet bend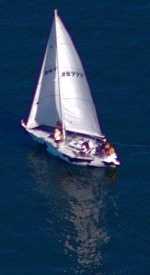 Virtually everything on the boat is designed to finely control sail shape.
Camber - how deep and round is the sail

Draft Position - how far aft is the deepest part
Angle of Attack - orientation of a foil relative to the wind
Twist - the wind aloft is more perpendicular to the boat
There are 13 sail shape controls for the main sail, five for the headail and three for the spinnaker. When you're on the voyage, find one and explain it to everybody.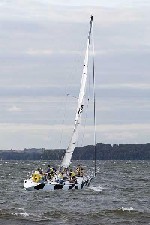 We never cancel. The only reason for not going on the lake is the chance of lightning, and we usually just wait for that to pass and go out after. We'll practice rigging and raising sails if there's no wind.
If you are a Sailing Club member, it will be a great help if you can run the motorboat. We will show you how and where to get your motorboat rating.
We meet in front of the boathouse at the lake end of the 'tunnel'. Please be on time because we have to motor out to the mooring. It takes about 30 minutes to rig so, if you're late, call 698-3899c and we'll try to pick you up.
We can schedule other times or take out other Sailing Club boats. Soma's schedule is at the top left of the 'tunnel'. We can also hang out together on the waterfront and go out on Sloops or Scows in shifts. Look for open times and feel free to propose them on Facebook or to Sustainability Sailors [Subscribe]
.

Pointers to more Sailing Club information can be found at MyHoofers.org.
Lot's of great pictures. Big thanks to photographers Kevin Gibbons, Mike Watson and Steve Braithwait and Chao Ling. See also
Facebook
.
2010
2009
2008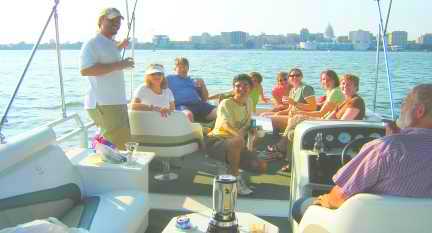 2007